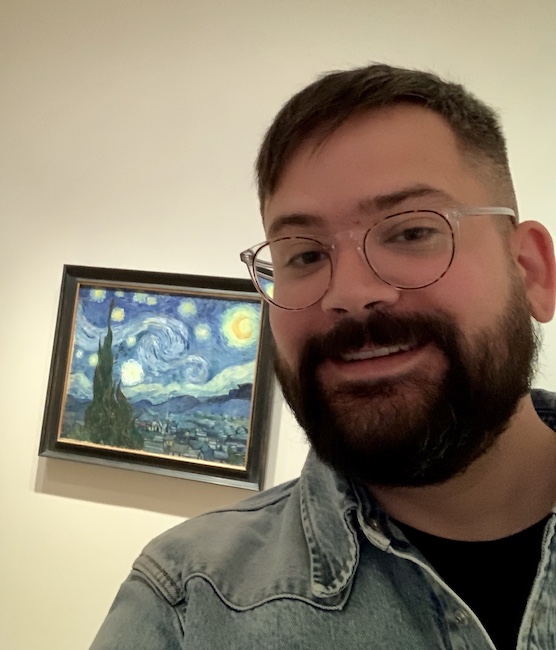 Gabriel Eades
Postdoctoral Scholar
513 Parnassus Ave, Rm 1047A
UCSF Box 0534 HSW
San Francisco, CA 94143
United States
Keywords
Noncoding RNA, CRISPR technology, RNA interference, Long Noncoding RNA, microRNA, Developmental Biology, Animals (Mice), Human Disease, Human Genetics, Extracellular RNA, High Throughput Screening
Genome sequencing technology is rapidly advancing, generating voluminous amounts of data associated with cancer genetics. With multimer GEM models, I am working to overturn the one-gene-at-a-time paradigm for studying cancer genetics in model organisms by using a high-throughput approach by creating single guide RNA (sgRNA) arrays for which I substitute recombinase recognition sites in place of CRISPR direct repeats. I'm using this technology to create genetic engineered mouse models for a variety of solid tumors.

My ongoing work seeks to demonstrate that this technology can be used for performing in vivo screens of driver mutation combinations as well as for creating genetically distinct offspring using germ cell-specific Cre driver lines. Cre-lox technology and Cas9 represent two of the most powerful tools in mouse genetics. Merging these two tools I've created novel eukaryotic CRISPR arrays that represent an evolutionary leap in GEM models of cancer.

As part of our efforts towards maximizing the impact of these next-generation cancer models, we're using long-read sequencing technologies to profile all the significantly enriched mutations within heterogeneous single-cells isolated from tumors allowing us to capture co-occurrence of programmed and spontaneous mutations that cooperate to drive tumorigenesis.

We're eager to share these tools and our expertise with the cancer research community and to collaborate as we seek to tackle some of the fundamental questions regarding the mechanism underlying tumorigenesis. We hope to share a pre-print describing the technology in better detail soon, so stay tuned!